Enscape and Real-Time Rendering for Architecture Models
As computer graphics capabilities have skyrocketed over the years, professionals in architecture, engineering and construction (AEC) have taken increasing advantage of the incredible value of visualization. The same graphical improvements that enable better visuals also enable dynamic visuals—in other words, real-time rendering.
In the architecture industry, real-time rendering is an extraordinary asset. Architects can get an intuitive feel for the space they're designing at any stage of the project, using the rendering as instant feedback to inform the design. When paired with another emerging technology, virtual reality (VR), architects can truly experience a design and mold it from that experience, rather than simply viewing the render after the design work is already completed.
Example of Enscape's real-time architectural rendering.
To take advantage of real-time rendering experiences, architects are turning to software tools such as Enscape, a real-time rendering application designed for architects. According to the company, Enscape is used by 85 of the world's top 100 architecture companies.
In this article, we'll take a closer look at how Enscape works and what it offers architects.
Enscape for Real-Time Rendering
Enscape is built on a proprietary OpenGL-based render engine that uses GPU-based culling or tiled shading to handle large architectural projects such as airports and hospitals, which can have over a hundred million polygons and thousands of light sources. Enscape also uses Vulkan to interact with NVIDIA RTX graphics cards for hardware accelerated ray tracing.
According to Enscape, the introduction of RTX technology has allowed the application to cope with much more ray traced geometry than before, resulting in a significant increase in indirect lighting and reflection detail. Enscape uses a hybrid path tracing approach in order to simulate indirect lighting and reflections as accurately as possible.
Enscape is available as a plug-in for several of the most popular architectural CAD programs, including Revit, SketchUp, Rhino, ArchiCAD, and soon Vectorworks. A single click of the plug-in pops up the Enscape virtual walkthrough, and a live link between the applications means changes to the CAD model are instantly reflected in the Enscape render.
Enscape provides a live link plug-in for several popular architectural CAD programs, including Revit, SketchUp, Rhino and ArchiCAD. (Image courtesy of Enscape.)
Within Enscape, users can walk through their real-time render using a combination of intuitive keyboard and mouse controls. Users can switch between flying and walking, change their speed, adjust the time of day and pull up a birds-eye-view minimap to help orient them in the model and teleport with a click.
A mouse and keyboard aren't the only way users can walk through a model in Enscape. The rendering application also supports the use of a gamepad or 3D SpaceMouse. Of course, users can also navigate their model with a VR headset if they have one available. Enscape supports Windows Mixed Reality devices, the HTC Vive and Vive Pro, and the Oculus Rift and Rift S.
Once satisfied with a particular design, users can export their render in a variety of high-resolution formats including images, videos and panoramas.
Orthographic feature in Enscape. (Image courtesy of Enscape.)
The Advantages of Enscape
Design is an iterative process, and it's important to be able to move through iterations as quickly as possible. To that end, one of Enscape's biggest advantages is its ability to accelerate workflows—increasing speed by orders of magnitude, in the company's words.
A live link connection between CAD and real-time rendering enables architects to incorporate rendering into the design process at all project phases. Applications such as Enscape can greatly shorten the distance between design and visualization, as anyone involved in the project can quickly pull up a real-time walkthrough. Enscape itself is a simple and intuitive to use, so users can jump right in with minimal training.
According to Enscape, its users can minimize project costs because their clients are able understand design concepts right from the get-go. Enscape users seem to agree.
"Enscape has become one of our standard plug-ins that allows us to seamlessly experience and communicate innovative design ideas, through real-time visualizations, walkthroughs and immersive virtual reality at any stage of a project irrespective of complexity and scale," said Han Shi, head of BIM and Design Systems at architecture studio Foster + Partners.
Example render from Enscape user DeGraw & DeHaan Architects. (Image courtesy of Enscape.)
The latest version of Enscape includes several new features, such as the BIM display feature. With this tool, users can simply click on an element in Enscape to show its available BIM data. Similarly, users can search for a particular element to highlight one or all instances in Enscape. In addition, users can now create floor plans or cross-sections directly within Enscape, and place buildings within urban environments.
BIM data in Enscape. (Image courtesy of Enscape.)
Hands-On with Enscape
Users can download a free 14-day trial of Enscape to see the application in action. We tested it ourselves using the Revit example provided with the trial, a floor of a typical office building. We ran the software on a relatively new ThinkPad P1 Gen 2 mobile workstation with an NVIDIA Quadro T2000 graphics card with 4GB of VRAM.
We were impressed with Enscape's real-time rendering quality, though it wasn't seamless. Every time we repositioned our camera it would take a couple seconds before the render would achieve its final resolution. This was understandable given the relatively low specs of our hardware, and didn't detract from the experience of walking through the virtual office. Tricky visual details, such as the reflections in the computer monitors and stainless steel of the office chairs, seemed impressively photorealistic.
Reflections in Enscape.
It was easy to begin using Enscape, as the navigation controls are shown by default (but can be hidden with a tap of the H key).
Screenshot of Enscape showing the keyboard and mouse navigation controls. Users can also navigate with a gamepad, 3D SpaceMouse, or VR headset.
A settings tab is available in the top left of Enscape which gives users access to a variety of controls. Users can choose between four rendering styles—default, light mode, white mode and polystyrol—and can edit the appearance of outlines with a slider. Users can also adjust the exposure, field of view and rendering quality.
Rendering styles in Enscape: default (top left), light mode (top right), white mode (bottom left) and polystyrol (bottom right). No, I can't tell the difference between white mode and polystyrol, either. (Image courtesy of Enscape.)
Enscape users also have access to input settings including mouse speed, mouse smoothing, movement speed, movement smoothing, spectator height, spectator width and the ability to invert mouse, gamepad and SpaceMouse controls. The settings tab also gives users the option to enable VR, stereo mode (for 3D TVs), automatic resolution and grass rendering. Users can also pin the settings tab to the screen if they like.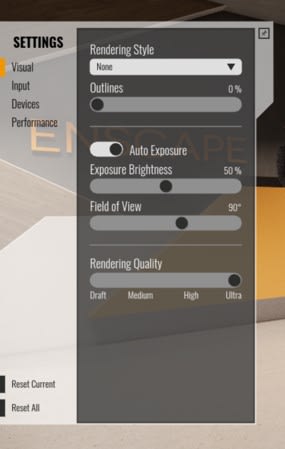 The Enscape settings tab.
Though not available in the standalone executable file that we tested, users of the Enscape plug-in also have access to features including time of day simulations, an easy video editor, panoramas, and the ability to export their render to several formats.
While Enscape ran smoothly for us most of the time, there was occasional lag. For example, the sliders—outlines, exposure brightness and field of view—would sometimes skip around or freeze as we tried to adjust them. However, walking through the scene itself was almost always smooth.
How to Get Enscape
Enscape is available as an annual or monthly subscription. A fixed-seat license, tied to a single computer, is available for $47/month (billed monthly) or $469/year (billed annually—which works out to $39.08/month). A floating license, which can be shared between multiple machines and users, is available for $699/year, billed annually. As mentioned, users can also download a free 14-day trial of Enscape to test it in their workflow before buying.
To learn more about Enscape or download the free 14-day trial, visit enscape3d.com.
Enjoy this article at https://www.engineering.com/DesignSoftware/DesignSoftwareArticles/ArticleID/19950/Enscape-and-Real-Time-Rendering-for-Architecture-Models.aspx